Recommend Roger's obituary to your friends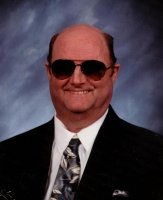 Obituary of Roger K. Meade
Roger K. Meade
Roger K. Meade, 67, of Chatham, died Friday, June 26, 2009 at St. John's Hospice in Springfield.
He was born Monday, April 27, 1942 in Virden, Illinois, the Son of the late James Meade and the late Mary (Sharpe) Meade. He was a 1960 graduate of Girard High School, and then attended Blackburn College and SIU-Carbondale. He married Julia Eller at the Pleasant Dale Baptist Church in Girard on December 23, 1962.
Roger worked for the state of Illinois for 36 years and retired as a senior public administrator in 1998. He was a member of the Chatham Baptist Church and was a Cardinals converted to Cubs fan. Roger enjoyed trips with his wife and family and spending winters in the Rio Grand Valley in Harlingen, Texas with friends who became his "second family". There he participated in the many skits Julia dreamed up to bring laughter and enjoyment to others. For many years he was also active in the Prairie Land Dance Club in Illiopolis, and performed in demos at fairs, nursing homes, and festivals. Roger was known for his sense of humor and ability to face adversity with courage and a smile. He loved his wife of 46 years, his family, and friends.
Survivors: Wife, Julia Meade of Chatham, Sons, Brian Meade (Tracey) and Jeff Meade, both of Girard, Grandchildren:, Justin, Cory, Taylor, Bracken, and Katlyn. Sister, Delores Krusenklaus of Kentucky, Brother, Michael Meade (Shirley) of Girard, IL, Mother-in-law, Cleora Eller of Carlinville, Brother-in-law, Dennis Eller (Sue) of Missouri. Several Nieces, Nephews, and Cousins.
He was preceded in death by his brother James Richard Meade and sister Juanita Dubinick. Funeral Information
Visitation: 5:00 to 8:00 P.M., Tuesday, June 30 at Davis-Anderson Funeral Home in Girard
Services: 10:00 A.M., Wednesday, July 1 at Davis-Anderson Funeral Home. Pastor Milton Bost of the Chatham Baptist Church will officiate.
Burial will be in the Virden Cemetery.
The family has invited everyone to join them immediately after the graveside service to the Chatham Baptist Church for a time of food, fellowship, and remembrance. Donations Information
Memorials may be made to the donors choice.
To send flowers to the family of Roger Meade, please visit Tribute Store