Recommend Lester's obituary to your friends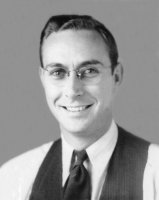 Obituary of Lester J. Cox
Lester J. Cox
Lester J. Cox, age 91, of Carlinville died at 2:40 a.m. on Thursday, October 23, 2008 at the Carlinville Area Hospital. Lester Julian Cox was born April 24, 1917 near Hull, IL in Pike County, the eldest child of Douglas Stephen and Edith May Johnson Cox. His ancestors were early settlers in Pike County and included two Revolutionary War veterans. Lester attended a one-room rural grade school along the Mississippi River near Saverton, MO. After the death of his parents while he was a young boy, Lester was raised by his uncle and aunt, Homer and Corabelle Johnson of Pittsfield, IL. Despite the fact that he and his siblings were all separated after their parents' death, Lester was committed to maintaining a bond with his siblings throughout their lives. To help support himself, Lester began working part time jobs while in high school. In college, he worked as a hotel bell hop. He enjoyed sharing stories of living at the hotel and of the misadventures of the hotel guest he met, including the many traveling salesmen who were common at that time.
He married June Marie Mundt on June 1, 1943 at the First Methodist Church in Columbia, MO. She preceded him in death on March 16, 2001. Also preceding him in death were a granddaughter, Jessica Johnson, and all of his siblings including three brothers, Douglas, Earl and Joseph; a sister, Bertha Trautwein; and two infant sisters, Nellie and Helen.
He was a graduate of Pittsfield High School class of 1935, Missouri State University and the University of Northern Colorado. Mr. Cox also attended the University of Missouri and completed many National Science Foundation institutes at colleges and universities throughout the US. He taught chemistry and physics in Senath, MO. and in Chesterfield, Scottville, Palmyra, Elvaston and Carlinville, IL. He served as the first high school principal and later as district superintendent of Palmyra Northwestern Schools. He retired from teaching in 1976.
A member of Mt. Nebo Lodge 76 in Carlinville, Mr. Cox was a Mason for over 65 years. He was also a member of the Carlinville Lions, Carlinville Elks, Macoupin County Historical Society, and the Carlinville United Methodist Church. He was a former member of state and county educational and retired teachers' associations. An avid gardener, he was well-known for cultivating a large garden, including dozens of tomato plants each summer. He enjoyed sharing his produce with nursing homes and other groups. Mr. Cox also enjoyed traveling, camping throughout the US and Canada, fishing, hunting mushrooms, and in his later years, writing reminiscences of his childhood and youth which were published in historical society newsletters. Quick of wit, he loved playing jokes on students, friends and family. With his wife, he participated in 25 Elderhostels throughout the US.
He is survived by three daughters, Edith (husband Guy) Sternberg of Petersburg, IL; Bonnie (husband George Cotsonis) Cox of Snellville, GA; and Julia (husband Dr. Jeffrey) Johnson of Tulsa OK. Also surviving are three grandchildren, Joshua Johnson of Mill Valley, CA; Joanna (husband Aaron) Buley of Norman, OK; and Curtis Cotsonis of Snellville, GA. Lester is also survived by numerous nieces, nephews and cousins. Funeral Information
Funeral Services will be held Monday, October 27, 2008 at 11:00 a.m. at the Davis-Anderson Funeral Home in Carlinville, IL. with Pastor Robert Sabo officiating. Visitation will be held from 9:00 a.m. until the time of service on Monday. Burial will be in Oak Hill Cemetery in Palmyra, IL. Donations Information
In lieu of flowers, memorials may be made to the Northwestern Area Education Foundation, 30953 Route 111, Palmyra, IL 62674 OR the Carlinville Public School Foundation 18456 Shipman Road, Carlinville, IL 62626
To send flowers to the family of Lester Cox, please visit Tribute Store