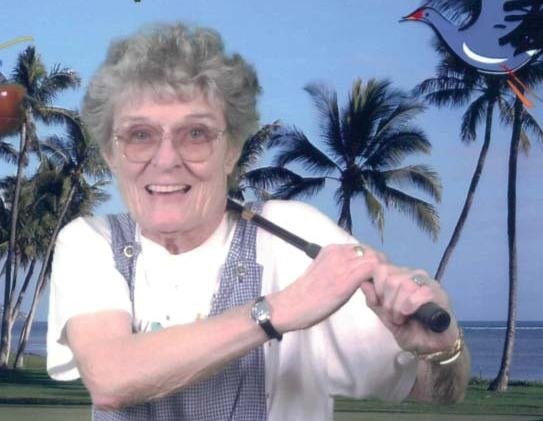 Obituary of Betty Ruth Elmore
Betty Ruth (Luce) Elmore, 92, formerly of Farmersville, passed away on Friday, August 3, 2018 at Memorial Medical Center in Springfield, IL.
Betty was born on June 16, 1926 in McGregor, Iowa, she was the daughter of Gordon and Ruth (Werges) Luce.
She married Robert Harvey Elmore on June 20, 1945 in Honolulu, Hawaii where both were stationed in World War II. After the war they returned to Farmersville to start their family.
Once their children were grown, she became an EMT/Driver for the Farmersville-Waggoner Ambulance Service. Betty received her realtor and broker licenses and managed the Wrightsman-Musso Real Estate office in Girard, Illinois until her retirement in 1987 and then became an avid golfer. She was a member of the First Christian Church in Girard, IL.
Betty was preceded in death by her parents, husband, Harvey, in 2005, son, Bob, in 2011, and brother Roy Luce.
She is survived by her daughter, Barbara (Chuck) Pearson of St. John, Indiana and her son, Thomas (Donna) Elmore of Farmersville, three granddaughters; Jessica (Jim) Pearson-Kienker of Crown Point, IN, and Alexandra and Amber Elmore of Farmersville, IL. Betty will be greatly missed by all who knew and loved her. She will be remembered as an extraordinary, fun-loving, family oriented woman.
Visitation will be held on Tuesday, August 7, 2018, 9:00 am to 11:00 am at Davis-Anderson Funeral Home, Girard, IL.
Funeral services will be conducted at 11:00am following the visitation.
Burial will follow in Rovey Cemetery, Farmersville, IL.
Memorial contributions may be made to the Farmersville-Waggoner Ambulance Service or Fire Department, and the Farmersville-Waggoner Library.
Please visit www.davisandersonfuneralhome.com to leave condolence or light a candle in her memory.
Davis-Anderson Funeral Home, Girard is in charge of arrangements.