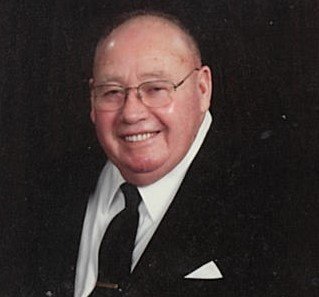 Obituary of Kenneth Otto Stolte Sr.
Kenneth Otto Stolte, Sr., 80, of Carlinville, passed away Monday, April 16, 2018 with family by his side at Carlinville Rehab and Health Care in Carlinville, IL.
Kenneth was born March 15, 1938, in Nokomis, IL, a son of Otto and Frances (Davis) Stolte. He married Mary Jean (McGee) on March 18, 1989, in Carlinville, IL.
Kenneth retired from Lippold and Arnett Trucking Company after 26 years as a truck driver.
He was a member of the Memorial Christian Church, Elks Lodge 1412, and Moose Lodge 1216.
Kenneth enjoyed spending time with his family and friends, especially his kids and grandkids. He was a die hard Chicago Cub fan and enjoyed watching westerns and wrestling.
Kenneth was preceded in death by his parents, two sisters: Dorothy Leigh and Marie Green.
Visitation will be held Thursday 4:00 to 7:00 at Davis-Anderson Funeral Home in Carlinville, IL. with the Elk's ritual at 7:00pm.
Funeral services will take place Friday, April 20, 2018 at 10:00am with Reverends, Gary Farthing and Martin Miller officiating.
Burial will follow in Irving Cemetery, in Irving, IL.
Kenneth is survived by his wife, Mary Jean (McGee) Stolte of Carlinville, IL, three daughters: Vickie (Companion, Mark Warren) Stolte, Karen (Bill) Rives and Susie (Jay) Stinnett, son, Kenneth (Janelle) Stolte, Jr. all of Carlinville, IL, step-sons: James King of Charlotte, NC, Dennis (Heather) King of Mt. Olive, IL, Richard (Nancy) King of Litchfield, IL, Daniel (Tami) King of Litchfield, IL, 7 grandchildren, 8 step grandchildren, 9 great grandchildren, 2 step great grandchildren, sisters, Betty Babbs of Taylorville, IL, Doris Moore of Decatur, IL and several nieces and nephews.
Memorials may be made to Alzheimer's Association-Springfield Chapter-"Kenny's Krew".
Please visit www.davisandersonfuneralhome.com to leave condolences or light a candle in his memory.
Davis-Anderson Funeral Home, Carlinville is in charge of arrangements.