Recommend Derald's obituary to your friends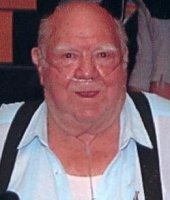 Obituary of Derald Wayne Wilson
Derald Wayne "Speed" Wilson
78, of Girard, died Tuesday, August 25, 2009 at Memorial Medical Center.
He was born Saturday, November 8, 1930 in McLean, IL, the Son of the late Edker Wayne and Bertha Jewel (Carwile) Wilson. He married the Verla Mae Thomas in Jacksonville on October 14, 1952. .
Speed graduated from Girard High School in 1948. He farmed in the Girard area and had worked at Crown I & II coal mine. He retired in 1994 and was an avid BIG RED Football fan. Speed loved to raise cattle but most of all enjoyed his grand and great-grandchildren. He was proud to a member of the UMWA.
Survivors: Wife, Verla Mae Wilson of Girard, IL, Daughter, Cathy LeGrand (John) of Girard, IL, Daughter, Janet Frey (Rodney) of Girard, IL, Daughter, Eilene Mullen (Mike) of Atwater, IL, Son, Kenny Wilson (Lesli) of Virden, IL, Son, Adam Wilson (Duane Von Lanken) of Springfield, IL, 13 Grandchildren, 13 Great Grandchildren, Sister, Edna Sargent of Rockford, IL, Several Nieces & Nephews. Funeral Information
Visitation will be from 4:00 to 7:00 P.M., Friday, August 28 at Davis-Anderson Funeral Home in Girard, IL.
Funeral services will be held 10:30 AM, Saturday, August 29, 2009 at Davis-Anderson Funeral Home.
Burial will be at a later date in Girard Cemetery. Donations Information
Memorials may be made to the Ronald McDonald House
or
American Cancer Society.
To send flowers to the family of Derald Wilson, please visit Tribute Store