Recommend Linwood's obituary to your friends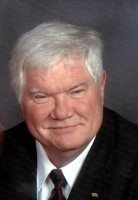 Obituary of Linwood W. Turley
Linwood W. Turley
Linwood W. Turley, 65, of Carlinville, died Saturday, May 2, 2009 at his residence.
He was born August 14, 1943 in Festus, MO, the Son of the late Roy Linwood Turley and the late Verble Evelyn (Wallace) Turley. He married Doris Elaine Morse in the Carlinville United Methodist Church on February 16, 1968.
Turley graduated from Festus High School in 1961and St. Louis College of Pharmacy in 1966. He was a Registered Pharmacist for Sullivan Drugs in Carlinville since 1966.
He was a member of Carlinville United Methodist Church. He loved spending time with his grandchildren, enjoyed fishing, and model trains. Lin was in the Carlinville Lions Club for 25+ years, a member of the Illinois Pharmaceutical Association, past member of First Baptist Church in Festus/Crystal City, Missouri, until he moved to Carlinville in 1966. Lin is a Boy Scout of America Eagle Scout. He was an assistant scoutmaster for BSA Troop #62 in Carlinville, and later a District Commissioner for the Abraham Lincoln Council. He was a 10 year board member and past president (2006) of Central Macoupin County Rural Water District. .
Survivors: Wife, Elaine Turley, Son, Matthew Linwood Turley (Erica) of Carlinville,3 grandchildren, Logan, Olivia, and Houston, all at home, Sister, Virginia R Sapp of Fisher, Illinois. Several Nieces and Nephews also survive.
He was preceded in death by Willis Turley who passed away in infancy. Funeral Information
Visitation: 4:00 to 8:00 P.M., Tuesday, May 5 at Carlinville United Methodist Church. Services: 10:00 AM, Wednesday, May 6, 2009 at Carlinville United Methodist Church.
Burial: Mayfield Memorial Park Cemetery in Carlinville. Donations Information
Memorials may be made to the Carlinville United Methodist Church, Carlinville Area Hospital-Building Fund, BSA Abe Lincoln Council, or Carlinville Public School Foundation.
To send flowers to the family of Linwood Turley, please visit Tribute Store