Recommend Earl's obituary to your friends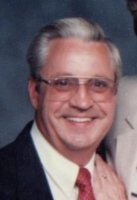 Obituary of Earl Talkington
Earl Talkington
Earl Talkington, 77, of Girard, died Saturday, May 16, 2009 at St. John's Hospital.
He was born Thursday, February 25, 1932 in rural Virden, the Son of the late Roy Cleveland Talkington and the late Vivian R. Harbaugh. He married Helen Kunken at St. Mary's Church in Lincoln, Illinois on September 23, 1961.
He was an accountant for The Rail in Springfield, retiring in 1996.
He was a member of St. Patrick's Catholic Church as well as the Girard Alumni Association. He was a past member of Girard Kiwanis Club (past president), Girard School Board of Education, and Oak Leaf Country Club. Earl was an affectionate husband, father, and grandfather. He enjoyed being with his grandchildren..
Survivors: Wife, Helen Talkington of Girard, Son, Colonel Mark Talkington (Camille) serving with the US Army in Iraq, Son, Steve Talkington (Andrea) of Denton, TX, Daughter, Cathy Fernandez (George) of Tovey, IL, Son, John Talkington (Beth) of Fox River Grove, IL, Grandchildren:, Anne, Mary, Hannah, Charles,, Caroline, Andrew, Elizabeth, and, William Talkington, Brother, Marion Talkington (Marilyn) of Girard, Sister, Hazel Byers of Lake Dallas, TX, Brother, Robert Talkington (Modene) of Ridgeley, TN, Several Nieces and Nephews.
He was preceded in death by brothers and sisters: Marguerite Glur, James Talkington, Mary Miller, Allen Talkington, and his twin sister Pearl Pierson.. Funeral Information
Visitation: 4:00 to 7:00 P.M., Tuesday, May 19 at Davis-Anderson Funeral Home in Girard, with a prayer service at 3:45 P.M.
Services: 10:00 A.M., Wednesday, May 20, 2009 at St. Patrick's Catholic Church. Rev. Kevin Laughery will officiate.
Burial: Pleasant Hill Cemetery in Girard.. Donations Information
Memorials may be made to the Girard Alumni Association or Girard Rescue Squad.
To send flowers to the family of Earl Talkington, please visit Tribute Store