Recommend Judy's obituary to your friends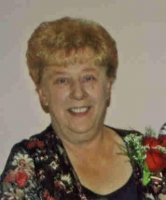 Obituary of Judy A. Spangler
Judy A. Spangler
Judith A. "Judy" Spangler, 62, of Carlinville, died Sunday, November 30, 2008 at her residence. She was born Tuesday, April 2, 1946 in Carlinville, Illinois, the daughter of the late Harvey Gross and the late Phyllis Maguire. Judy graduated from Carlinville High School with the class of 1964, and then went on to receive a diploma from a business school in St. Louis, Missouri. She married Terry L. Spangler in Carlinville on September 27, 1967.
She was Bookkeeper for Curry Office Supply in Carlinville. She previously worked for Valley Steel for 28 years, Lippold & Arnett, and Hog, Inc, all of Carlinville. Judy was very active in her church, St. Paul's United Church of Christ. She was on the church council, christian education committee, and taught Sunday school. She loved her family and being with her grandchildren.
Survivors: Husband, Terry L. Spangler of Carlinville, Son, Britt Spangler of Champaign, Illinois, Daughter, Betsey Rogers (Chris) of Carlinville, 4 Grandchildren: Caleb & Collin Spangler, Madalyn & Maxwell Rogers, Sister, Dorothy Schreiber of Prairietown, Illinois, and Several Nieces & Nephews. Funeral Information
Services: 10:00 A.M., Wednesday, December 3, 2008 at St. Paul's United Church of Christ. Rev. Kevin Strope will officiate.
Burial: Prairie Lawn Cemetery in Carlinville.
Davis-Anderson Funeral Home in Carlinville is in charge of arrangements. Donations Information
Memorials may be made to the St. Paul's United Church of Christ - Sunday School Fund.
To send flowers to the family of Judy Spangler, please visit Tribute Store