Recommend Everett's obituary to your friends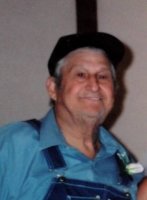 Obituary of Everett Wayne Smith
Everett Wayne "Smitty" Smith, Sr.
age 77, passed away on Friday, April 10, 2009, at Carlinville Area Hospital. He was born May 14, 1931 to Irwin and Ruth (Dillard) Smith in Gillespie, IL. Smitty married Thelma Sneed in 1979, she passed away in 2002.
Smitty graduated from Gillespie High School. He served in the Army during the Korean Conflict. Smitty was retired from the salvage business.
Surviving are daughter Mary Ann Walker, husband Carl of Carlinville, IL. a son, Everett W. Smith, Jr. of Oklahoma and daughter Sandra Brown of Hillsboro, IL. There are 3 grandchildren and 3 great grandchildren.
Also surviving are sisters Wanda May Syddall of Alton, IL, Helen Marie Siewers of Indiana, Ruth Ann Miller of Gillespie, IL, and brothers Irwin Smith, Jr. of St. Louis, MO, Richard Smith of Litchfield, IL, Harold Dean Smith of Gillespie, IL, Ralph Smith of East Alton, IL and Gerald Smith of Lebanon, IL. Additional survivors include several nieces and nephews. Funeral Information
Graveside services will be held at Prairie Lawn Cemetery on Tuesday, April 14, 2009 at 10:00 A.M. Rev Jim Sutter will officiate. Donations Information
Memorials may be made to the Smith Family.
To send flowers to the family of Everett Smith, please visit Tribute Store