Recommend Phillip's obituary to your friends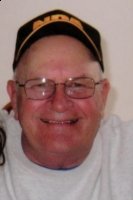 Obituary of Phillip Allan Simpson
Phillip Allan Simpson
69, of Carlinville, passed away, Sunday evening, June 21, 2009 at St. John's Hospice in Springfield .
Phil was born Tuesday, February 20, 1940 in Cairo, IL, the son of James Robert and Anne ( Spies) Simpson and they reside in Cairo.
He married the late Mary Ann Bilauski on February 18, 1967 in Carlinville, she passed away August 11, 1997. Phil later married Wilma Rhoads December of 1998, she passed away June of 1999.
Phil retired September 2, 2002 from MO. Metals in the Quality Control Engineering Department. Phil had 18 years in commercial-Petro Chem & Power Piping, 14 years Nuclear and 14 years in Aerospace aircraft departments. He held certificates in EG&G Leadership, Environmental Compliance, Computer school and Hazmat school. Phil had been a Site Trainer for "General Safety Awareness" and a "Site Internal Auditors" Trainer. He helped with Judge Reilly's Environmental (RCRA 2000) compliance, helped in making the transition to ISO 9000-2000 and was an ISO Internal Auditor. Phil earned Top Secret Military & Nuclear Site Clearance and was bestowed in 1998 the EG&G WARP Award for individual achievement. Phil served the Army during peace time in the Phillipians.
He was a member of Zion Lutheran Church, NRA, American Legion Post #554 and was currently serving as the President and Secretary of the Honda Riders Chapter 23 Club. He enjoyed target shooting, motorcycle riding, his convertible and most of all spending time with his grandchildren and attending their events.
Surviving are his Parents, Daughters, Michelle Millard (Chris) of Carlinville, IL, , Lisa Bowman (Tim) of Chesterfield, IL, Grandchildren, Erica & Rachel Millard, Ryan & Sydney Bowman, Sister, Diane Papasifakis of Warrensburg, MO, Sister, Judy Poole (Danny) of Wickliff, KY. and several nieces and nephews.
He was preceded in death by nephew Glen Poole. Funeral Information
Visitation will be held from 4:00 to 7:00 P.M., Friday, June 26 at Davis-Anderson Funeral Home in Carlinville. Rev. Keith GeRue will be officiating the Funeral Service at 10:00 A.M., Saturday, June 27, 2009 at Zion Lutheran Church in Carlinville
.
Phil will be laid to rest at Mayfield Memorial Park Cemetery in Carlinville with military honors provided by Guy Baird American Legion Post #554. Pallbearers assisting; Jerel Loveless, Mark Poole, Mike Papasifakis, Tim Millard, Kenny Hicks, Scott Strope. Donations Information
Memorials may be made to the Zion Lutheran Church or Carlinville Area Hospital Building Fund.
To send flowers to the family of Phillip Simpson, please visit Tribute Store