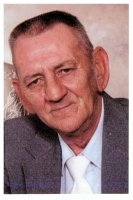 Obituary of Larry E. Schroeder
Larry E. Schroeder Sr.
65, of Carlinville, formerly of Girard, IL, died Friday, May 15, 2009 at St. John's Hospital.
He was born Thursday, July 29, 1943 in Springfield, IL, the son of the late William Merle Schroeder and Clara Austin.
He married Loretta Schroeder on November 14, 1962 in Jacksonville, IL .
Larry had worked as a truck driver, welder and farmer.
He was a member of the Apple Creek CB Club. Larry also loved to fish and spend time with his grandchildren.
Survivors: Wife, Loretta Schroeder of Carlinville, IL, Daughter, Brenda Foland (Bret) of Normal, IL, Son, Larry Schroeder Jr. (Cindy) of Waggoner, IL, Son, Joe Schroeder (Marcy) of Carlinville, IL, Daughter, Kris Adams (Dave) of Bloomington, IL, 10 Grandchildren, 1 Great Granddaughter, Mother, Clara Wagahoff of Girard, IL, Sister, Judy Foster (Charles) of Thayer, IL, Sister, Carol Davidson (Companion Jim Garrison) of Girard, IL, and several Nieces & Nephews Funeral Information
Family and friends may call from 4:00 to 8:00 P.M., Monday, May 18 at Davis-Anderson Funeral Home in Girard, IL.
Funeral service will be 11:00 A.M., Tuesday, May 19, 2009 at Davis-Anderson Funeral Home.
Burial: Girard Cemetery in Girard, IL Donations Information
Memorials may be made to the American Cancer Society or To the Family.
--------------------------------------------------------------------------------