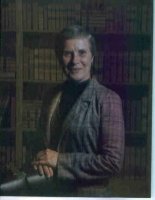 Obituary of Juanita E. Pruitt
Juanita E. "Nita" Pruitt
Juanita Ellen "Nita" Pruitt, 81, of Carlinville, died Saturday, February 21, 2009 at Carlinville Area Hospital.
She was born Saturday, January 21, 1928 in Henryetta, Oklahoma, the Daughter of the late Frank Watkins and the late Elizabeth Moore Cameron. She married Harold L. Pruitt in Wichita, Kansas on October 20, 1944.
She was Homemaker.
Nita loved to paint as well as collecting dolls and Precious Moments collectables..
Survivors: Husband, Harold L. Pruitt, Son, Gary Pruitt (Susan) of Houston, Texas, Daughter, Gloria Suter (Jim) of Carlinville, Grandchildren:, Paul Ritter of Atlanta, Georgia, Michelle Johnson (Wayne) of Houston, Texas, Harold Pruitt (Lynn) of Ft. Sill, Oklahoma, and David Pruitt (Karen) of Star City, Arkansas, 5 Great-Grandchildren, 1 Great-Great-Grandchild, Sister, Helen Gulick (Larry) of Mases Lake, Washington, Several Nieces and Nephews.
She was preceded in death by a brother, Robert Watkins. Funeral Information
Visitation: 4:00 to 7:00 P.M., Monday, February 23 at Davis-Anderson Funeral Home in Carlinville, Illinois.
Graveside Services: 10:00 A.M., Tuesday, February 24, 2009 at Mayfield Memorial Park Cemetery in Carlinville.
Davis-Anderson Funeral Home in Carlinville, is in charge of arrangements. Donations Information
Memorials may be made to the Adopt-A-Pet in Benld, Illinois.