Recommend Marcus's obituary to your friends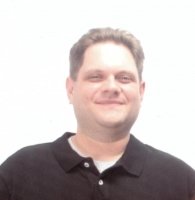 Obituary of Marcus D. Nicholson
Marcus D. Nicholson
Marcus D. Nicholson, 33, of Benld, died Tuesday, April 21, 2009 at St. John's Hospital.
He was born Thursday, April 8, 1976 in Mattoon, Illinois, the Son of Richard D. Nicholson and Carolyn S. Crouch Nicholson. He married Autumn Grissom on October 22, 2005 at the Federated Church in Carlinville.
He was a System Analyst Specialist for Karmak in Carlinville, where he first started at the age of 15.
He was a member of the Federated Church in Carlinville. Marcus was a member of the Macoupin Club, where he loved to fish and spend time. He enjoyed listening to punk rock music, and playing with his dog, Rella.
Survivors: wife, Autumn of Benld, parents, Richard and Carolyn Nicholson of Carlinville, grandparents, Keith and Alice Nicholson of Carlinville, sister, Rachel Anna Watson (Aaron) of Glen Carbon, IL, Nephews, Aubren and Otis Watson, goddaughter, Sophia Hollo. He also survived by his parents-in-law, John and Karen Ghorneley of Durham, NC, sisters-n-law, Winter Grissom of Carlinville and Susie Ray of Durham, NC, brother-in-law, Phillip Ray of Durham, NC. Funeral Information
There will be no public visitation or funeral service. Donations Information
Memorials may be made to the Adopt-A-Pet in Benld, Illinois.
To send flowers to the family of Marcus Nicholson, please visit Tribute Store