Recommend Orval's obituary to your friends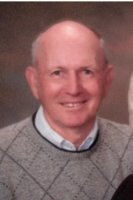 Obituary of Orval E. Neff
Orval E. Neff
Orval E. Neff, 77, of Girard, passed away Saturday, April 18, 2009 at his residence.
He was born June 21, 1931 in Girard, Illinois, the Son of the late Charles Edward Neff and the late Opal Mae (Bristow) Neff. Mr. Neff graduated from Girard High School with the class of 1949. Orval served his country as a Sergeant in the Marines during the Korean Conflict, and was a Tank Commander. He married Marilyn M. Nichols at the Girard United Methodist Church on March 19, 1955.
He farmed west of Girard, retiring in the late 90's. He also was a Pioneer Seed dealer with his brother, Leonard Neff.
He was a member of Oak Leaf Country Club. Orval loved golfing and Girard sports.
Survivors: Wife, Marilyn M. Neff, Daughter, Debbie VanHuss of Girard, Son, Doug Neff (Mary) of Decatur, IL, Grandchildren:, Jamie Carter, Brett VanHuss,, Mindy, Allison, & Alex Neff. Brother, Glenn Neff (Norma) of Jacksonville, IL, Sister, Eileen Walk, Brother, Leonard Neff (Gerry), Sister, Dorothy Klaus (Wayne) all of Girard. Several Nieces and Nephews. Funeral Information
Visitation: Monday, April 20, 2009 from 4:00 - 8:00 P.M. at Davis-Anderson Funeral Home in Girard.
Services: 10:00 A.M., Tuesday, April 21, 2009 at Davis-Anderson Funeral Home.
Rev. Rich McElfresh will officiate.
Burial: Girard Cemetery. Donations Information
Memorials may be made to the Girard Fire & Rescue Squad.
To send flowers to the family of Orval Neff, please visit Tribute Store