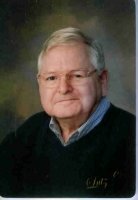 Obituary of Dale Leach
Dale Leach
Dale Leach, 73, of Carlinville, died Friday, November 28, 2008 at Friendship Home in Carlinville.
He was born April 30, 1935 in Carlinville, the third child of the late Earl T. Leach and the late Leta Mae Clark. Dale graduated from Carlinville High School with the class of 1954. He married Bev Morehead on December 24, 1955 at the home of her parents in Palmyra. Dale was a lifelong farmer in the Carlinville area. He was very active in his church, Concord Primitive Baptist Church. He was a trustee for Bird Township and a member of Macoupin County Farm Bureau. He also loved to snowmobile. Dale's father, Earl, was a longtime board member of the Macoupin County Fair Association, so Dale grew up attending and working at the fair. As an adult, the fair had a special place in his heart, and he continued attending and working there.
Survivors: Wife, Bev Leach of Carlinville, Daughter, Kristy Rosentreter (Roger) of Carlinville, Son, Steve Leach (Jennie) of Eagle River, WI, Daughter, Jill McCaherty (Rick) of Carlinville, 10 Grandchildren: Ryan Rosentreter (fiancee Laura Boente), Megan Karnes (Jeff), Paige Starr (Bryan), Haley Rosentreter, Joshua, Ethan, & Hannah Leach, Kelli, Sean, & Karli McCaherty, 1 Great-Grandson: Henry Blake Karnes, Sister, Dolores Frankford (Alvis), Brother, Don Leach (Ida Mae), Sister, Marilyn Mieher, all of Carlinville, Several Nieces and Nephews. Funeral Information
Visitation: 4:00 to 8:00 P.M., Sunday, November 30 at Davis-Anderson Funeral Home in Carlinville.
Services: 10:00 A.M., Monday, December 1, at Davis-Anderson Funeral Home.
Elder Don McWilliams will officiate.
Burial: Mayfield Memorial Park Cemetery in Carlinville
There will be a funeral dinner at Ss Mary & Joseph Catholic Church immediately following the committal service at the cemetery. Donations Information
Memorials may be made to the Carlinville Area Hospital Building Fund or Macoupin County Fair Association.