Recommend Theodore's obituary to your friends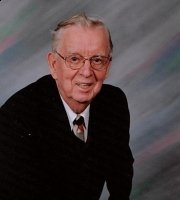 Obituary of Theodore W. Lay
Ted Lay
85, of Girard passed away Thursday, September 3, 2009 at Memorial Medical Center in Springfield, IL.
He was born May 6, 1924 in Virden, IL the son of Samuel Houston and Pearl Jones Lay. He was married to Norma Weddle Lay on May 30, 1946.
Ted was a life long resident of the Girard area. He graduated from Girard High School Class of 1942. He was a farmer in northern Macoupin County for 7 years. Ted served as Mayor of Girard from 1969 - 1977. He was an active member of the Chamber of Commerce. Ted was owner of Lay Soil Improvement and Real Estate Broker of Ted Lay Real Estate. He served as Co-chairman of the 1955 Girard Centennial Committee, North Macoupin Health Services Board and was a school Board Member of the CUSD #3. Ted proudly served as a volunteer fireman for Girard from 1957-1969. He served as a member of the Sunset Lake board and actively participated in the water ski shows.
Ted served the community and area as auctioneer and realtor. He rose each morning at 4:00 a.m. to present his radio show "Talk Time in the Morning" on stations WRVI from 1987 - 1988 and WSMI from 1988 - 2005. The radio studio aired from the Ted Lay Real Estate on the Girard Square. Ted devoted his life to the betterment of the Girard Community. He was a member of the Church of the Brethren.
Ted also sang bass with the Harmony 4 Gospel Quartet and entertained residents of Sunrise Manor with his harmonica.
Ted was preceded in death by his parents, one sister Ethel Lay Daccardo and one brother S.H. Lay II.
He is survived by his wife of 63 years, Norma; one son T. William "Bill" Lay (Gayle) of Suffolk, VA; three daughters, Berta Cottom, of Terre Haute, IN; Becky Vann (Joe) of New Boston, IL; Brenda Standerfer (Ernie Lonas) of Champaign, IL; 13 grandchildren; 17 great grandchildren; brother-in-law Lynn Weddle (Bev) of Thayer, IL; and several nieces and nephews including James McDonough and Nancy Samuelson and several cousins. Funeral Information
Services will be held Monday, September 7, 2009 at 10:00 a.m. at Davis-Anderson Funeral Home Girard, IL. Visitation will be Sunday, September 6, 2009 from 3:00 p.m. to 6:00 p.m. at the funeral home. Donations Information
The family requests that in lieu of flowers that donations be made to the Girard Rescue Squad or Girard Municipal Building Fund.
To send flowers to the family of Theodore Lay, please visit Tribute Store