Recommend Donna's obituary to your friends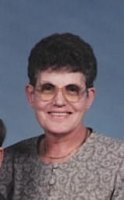 Obituary of Donna C. Lakin
Donna C. Lakin
72, of Carlinville, died Wednesday, April 29, 2009 at Memorial Medical Center.
She was born Tuesday, May 19, 1936 in Carlinville, Illinois, the Daughter of the late James and Hazel ( Elkington) Karrick.
She married Barry W. Lakin in Carlinville, Illinois on February 14, 1981.
Donna graduated from Carlinville High School,class of 1954. She was a CNA and Unit Clerk for Carlinville Area Hospital until 1986.
She was a member of Carlinville Southern Baptist Church,served as the secretary to the Macoupin Republican Central Comm. and was an Election Judge.
Survivors: Husband, Barry Lakin of Carlinville, IL, Son, Stephen Springman (Teresa) of Tishomingo, MS, Daughter, Katheryn Stroup (Kenneth) of Flowery Branch, GA, Daughter, Carol Ann Gazda (Fiancee:Dan Dawning) of Flowery Branch, GA, Daughter, Deborah Lynn Lockwood (Kirk) of Carlinville, IL, Daughter, Lisa Gay Springman (Companion: Russell Jones) of Carlinville, IL, Son, Michael James Springman (Shirley) of Carlinville,Son, Vernon Springman (Kasey) of Carlinville, IL, Daughter, Carrie L. Lakin of Staunton, IL, 27 Grandchildren, 32 Great Grandchildren, 4 Great Great Grandchildren,Sister, Thelma Barnes of OK , Sister, Betty Bouillon, of Carlinville, Sister, & Janet Rady,of TN Brother, Lyndall Karrick of Dallas TX
Several Nieces and Nephews.
She was preceded in death by 4 Grandchildren, Jeremiah Costello, Jamie Lynn Neely, Nathan Rettig, and Mandy Lee Eddleman, 3 Brothers and 2 Sisters. Funeral Information
Visitation: 4:00 to 7:00 P.M., Friday, May 1,2009 at the funeral home. Funeral services will be at: 10:00 A.M., Saturday, May 2, 2009 at Davis-Anderson Funeral Home in Carlinville.
Burial will be in Prairie Lawn Cemetery . Donations Information
Memorials may be made to the American Cancer Society.
To send flowers to the family of Donna Lakin, please visit Tribute Store