Recommend Nolan's obituary to your friends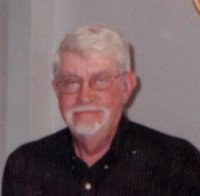 Obituary of Nolan Ray Austwick
Nolan Ray Austwick
75, of Carlinville, died Sunday, July 5, 2009 at his residence.
He was born Saturday, December 30, 1933 in Hettick, IL, the son of the late Adolph and Lois (Cox) Austwick. He married Marcella (Maberry) in Carlinville, IL on December 6, 1958 and she passed away June 3, 1988.
Austwick attended Northwestern High School class of 1951. Nolan served his country in the US Army from 1956-1958 and in the reserves until 1962. He was Route Salesman for Prairie Farms Dairy for over 40 years. Nolan was an avid sportsman, loved to golf, watch football and basketball follow the Cavaliers and to boat and waterski. His life long passion was his motorcycle. Nolan also enjoyed showing his 1950 Chevy that he restored. He was a member since 1977 of the Gold Wing Motorcycle Riders Association and enjoyed bowling on the Monday night league.
Survivors: Daughter, Debra J. Wiles (Greg) of Carinville, IL, Grandsons, Brett & Nathan Wiles, Brother-In-Law, Jesse F. Maberry (Vickie) of Oregan, IL, Brother-In-Law, Kim Maberry (Donna) of Jerseyville, IL, Nephews, Todd & Curt Maberry, Brad & Eric Neunaber, Cousins, Zane, Lendell, Gary,, Jim & Jerry Austwick Funeral Information
Visitation will be held 4:00 to 7:00 P.M., Wednesday, July 8 at Davis-Anderson Funeral Home in Carlinville, IL.
Funeral Services will be 10:00A.M., Thursday, July 9, 2009 at Davis-Anderson Funeral Home.
Burial will be in Gilead Cemetery in Hettick, IL Donations Information
Memorials may be made to the Carlinville Area Hospital Building, CAV PAC, or American Cancer Society.
To send flowers to the family of Nolan Austwick, please visit Tribute Store