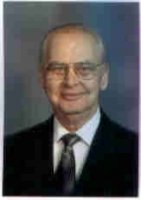 Obituary of Norman L. Armstrong
Norman L. Armstrong
age 86 of Carlinville, passed away , Tuesday, February 17, 2009 at Carlinville Area Hospital.
Norman was born May 4, 1925 in Sona Bata, Belguan Congo, Africa. He was the only son to Bernard W. and Rhoda (Broholm) Armstrong.
On September 24, 1949, Norman married Florence (Waterman) in Kalamazoo, Michigan.
Norman was a pastoral counselor in Western Springs, IL and retired in 1993. He was a member of the Federated Church in Carlinville and Seekers Group at Blackburn College. Norman served in the Army during W.W. II and will be buried in the Mausoleum of Valor at Mayfield Memorial Park Cemetery in Carlinville which commemorates veterans.
Norman is survived by, wife Florence, sons, Dr. Mark W. Armstrong, wife Lynn of Carlinville and Richard N. Armstrong of Charleston, WV., grandsons, Greg MacDonald, wife Sara, Jeff Armstrong and Dan Armstrong, fiancée Sara Keaster and sister Joan Baily of Urbana, IL. Funeral Information
Services will be held at a later date. Donations Information
Memorials are suggested to the Federated Church in Carlinville.