Recommend Everett's obituary to your friends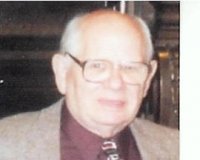 Obituary of Everett Gene Garrett
Gene Garrett
of Carlinville, formerly of Linton, IN, died Sunday, August 30, 2009 at the Heritage Manor in Carlinville.
He was born Monday, November 8, 1926 in Marco, IN, the Son of the late Everett Irl and Mary Catherine (Timmerman) Garrett. He married Margaret Jane (Lind) in the Methodist parsonage in Pleasantville, IN on August 14, 1946.
Gene graduated from Marco High School, class of 1944. He was an Electrical Engineer in the mining industry for 41 years. The last 12 years he served as a consultant for Peabody Coal of St. Louis, MO. and retired in 1987.
He was a member of Carlinville United Methodist Church, Carlinville Elk's Lodge #1412, Carlinville Lions Club, Harrisburg Masonic Lodge where he was a 32nd degree mason and Aenad Shrine Lodge.
Survivors: Wife, Jane Garrett of Carlinville, IL, Daughter, Terry Jane Hess (Dr. James Kirk Hess) of Hillsboro, IL, Grandson, Brian Hess of Chicago, IL, Grandson, Dean Hess of St. Louis, MO, Several Nieces & Nephews.
He was preceded in death by brothers; Charles Arnold & Willis Ray Garrett. Funeral Information
Visitation will be from 8:30 TO 10:00A.M., Friday, September 4 at Davis-Anderson Funeral Homes in Carlinville, IL.
Funeral service will follow at 10:00A.M., Friday, September 4, 2009 at at the funeral home.
Burial will be in Camp Butler National Cemetery in Springfield, IL with military honors . Donations Information
Memorials may be made to the Carlinville United Methodist Church, Macoupin County Historical Society, or Carlinville Area Hospital Building Fund.
To send flowers to the family of Everett Garrett, please visit Tribute Store