Recommend Melvina's obituary to your friends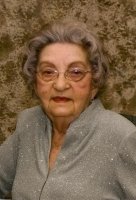 Obituary of Melvina R. Fox
Melvina R. Fox
Melvina Fox, age 93, a long time resident of Girard, died Saturday morning, May 9, 2009 in Marietta, Georgia. She was born April 8, 1916 in Fayette County, the daughter of Elmer and Gertrude Harrison Rush.
Melvina graduated from Girard High School in 1936 and married Odell Fox on June 20, 1937. She was employed for 30 years in retail in Girard and then worked for the Virden Department Store for 19 more years before retiring in 1992.
She was a long time member of the First Christian Church of Girard serving as a Deacon, church clerk, CWF treasurer and a member of the Peanut Brigade. She was a 50 year member of the Royal Neighbors Comp 273 of Girard. She also was a member of the Sunny Side Association where she was treasurer for many years.
She spent the last 1-½ years in Marietta, Georgia to be close to her family, especially enjoying her 3 great-grandsons who called her "Grandma Illinois". While there, she resided at the A.G. Rhodes Nursing Home where she won the title of Ms. A.G. Rhodes 2008 and went on to become the runner up in the Ms. Georgia Nursing Home Queen competition.
She was preceded in death by her husband Odell, brothers Kenneth Rush, Rex Rush and sister Ina Fox. Surviving her are daughter, Sharon Johnson (Gary) of Roswell, Georgia, granddaughters, Paige Marchand (Mark) and Erin Grigsby (John), and great-grandsons, Jack Grigsby, Ryan Grigsby and Jalen Marchand. Funeral Information
Services will be held at the Davis-Anderson Funeral Home in Girard on Friday, May 15, 2009 at 10am with Rev. Rich McElfresh officiating. Visitation will be on Thursday, May 14, from 5pm to 8pm.
Burial will be in Girard Cemetery. Donations Information
Donations can be made to the First Christian Church of Girard.
To send flowers to the family of Melvina Fox, please visit Tribute Store