Recommend Harry's obituary to your friends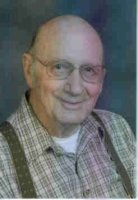 Obituary of Harry L. Fortunato
Harry L. Fortunato
was born September 2, 1925 in Dagus Mines, PA son of Pacifico and Floda A. (Taylor) Fortunato. Harry married Esther M. (Brown) October 3, 1948 in Indiana, PA. She passed away April 1994.
Harry worked for PPG glass factory in PA until its closing. The Fortunato family moved to Joliet in 1971 and Harry became a commercial painter. He retired in 1987.
Harry was a member of the Emmanuel Baptist church where he taught Sunday school. He also was a member of the American Legion and VFW. Harry loved to fish, hunt and enjoyed serving the Lord. He traveled several times for mission trips. He served his country in W.W.#2 in the Navy.
Surviving Family:
Daughter: Carol Warren (John) of Chesterfield, IL. Sons, James Fortunato Sr. wife Dorothy of Elderton, PA, Kenneth Fortunato Sr. wife Cindy of El Paso, TX, and Thomas Fortunato of Chesterfield, IL. 12 Grandchildren and 21 Great Grandchildren, Sister Florence Wasnak of Carlinville, IL.
He was preceded in death by a grandson, Harry Matthew Fortunato. Funeral Information
Funeral Services will be held, 11:00 A.M., Friday, February 6, 2009 at the Davis-Anderson Funeral Home in Carlinville. Visitation will be held Thursday from 5:00 to 7:00 P.M. at the funeral home. Burial will be in Chesterfield Cemetery. Donations Information
Memorials are suggested to the American Cancer Society or the Emmanuel Baptist Church
To send flowers to the family of Harry Fortunato, please visit Tribute Store