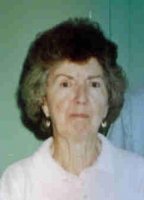 Obituary of Marie E. Crehl
Marie E. Crehl
Marie E. Crehl, 87, of Carlinville, died Tuesday, October 28, 2008 at Friendship Home in Carlinville.
She was born February 15, 1921 in Dorchester, Illinois, the Daughter of the late Roy Taylor and the late Mary (Poole) Taylor. She married Melvin A. Crehl in Springfield, Illinois on November 17, 1947.
She owned and operated Marie's Beauty Shop from her home for 34 years.
She was a member of Carlinville United Methodist Church. She also loved to dance and spend time with her family.
Survivors: Husband, Melvin A. Crehl, Daughter, Nancy Schreiter (Lou) of Plainview, IL, Grandchildren: Justin Schreiter (Victoria) of Coronado, California, Becky Schreiter of Billings, Montana, and Jason Schreiter of Plainview, Illinois, 2 Great-Grandchildren: Savine and Jacob Cogar, Sister, Lilian Boris of North Carolina, Several Nieces and Nephews.
Marie was preceded in death by a granddaughter, Jessica Schreiter, and three brothers: Alfred, Raymond, and John W. "Red" Taylor. Funeral Information
Visitation: 5:00 to 7:00 P.M., Wednesday, November 5, 2008 at Davis-Anderson Funeral Home in Carlinville.
Services: 2:30 P.M., Thursday, November 6, 2008 at the funeral home.
Revs. Bob Taylor and Kevin Strope will officiate.
Burial: Mayfield Memorial Park Cemetery in Carlinville. Donations Information
Memorials may be made to the Carlinville United Methodist Church.