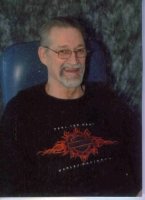 Obituary of Larry W. Crays
Larry W. Crays
age 70 of Carlinville, formerly of Girard, IL. passed away Monday, October 13, 2008 at the Carlinville Rehab Center. Larry was born June 20, 1938 in Carlinville, IL, son of the late Harold and Opal (Morgan) Crays. Larry retired in 2003 after working 33 years at Crown II Mine in Virden, Il as a welder-hoist engineer.
He was a member of the United Mine Workers Association. Larry enjoyed riding his Harley-Davidson motorcycle, spending time with his family and watching John Wayne movies.
Family members include, wife Vonnie of Carlinville, IL., Sons, David Crays wife Shirley and Darin Crays both of Carlinville. Daughter, Donna Dworzynski, husband Steve of Carlinville, IL. Grandchildren: Kindra, Whitney, Braden, and Justina. Brother, Thomas Crays wife Sandy of Carlinville, Sisters, Nora Brown, and Wanda Tigo husband Don of Carlinville, IL, Shirley Faye Heyen husband Gerald of Shipman, IL. Funeral Information
Funeral services will be held, Wednesday, October 15, 2008 at 10:00 A.M. at the Davis-Anderson Funeral Home in Carlinville, IL.
Visitation will be held, Tuesday, October 14, 2009 from 4:00 to 7:00 at Davis-Anderson. Donations Information
Memorials are suggested to the Diabetes Foundation.