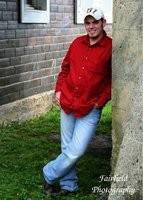 James William "Jimmy" Porter
James William Porter, 28 of Carlinville, passed away Saturday evening, August 18, 2018, at St. John's Hospital in Springfield, IL.
Jimmy was born August 18, 1990, in Hillsboro, IL, a son of James Wesley and Leslie (Overturf) Porter.
Jimmy attended Carlinville High School with the class of 2009.
Jimmy had worked as a diesel technician, welder, and was a jack of all trades. He was presently a farm hand at Wonder Green Farm in Carlinville.
He enjoyed spending time with his son, playing pool, fishing, camping and building things. He was active in football and FFA during high school.
Jimmy was preceded in death by his father, James Wesley Porter in June of 1996.
Visitation will be held on Tuesday, August 21, 2018, from 4:00 to 7:00 pm at Davis-Anderson Funeral Home, Carlinville, IL.
Funeral Services will be conducted at 10:00 am, Wednesday,August 22, 2018 at The Federated Church in Carlinville with Rev. Meg Biddle.
Burial will follow in Mayfield Memorial Park Cemetery, Carlinville.
Jimmy is survived by his mother, Leslie Porter Bell of Carlinville, IL, son, Jordan Wesley Porter, sister, Brandy (John) Sproull of Carlinville, IL, brother, Michael (Mallory) Bendorf of Jacksonville, IL, brother, Geoff Bendorf of Carlinville, IL, sister, Katilyn (Jesse) Hartsook of Carlinville, IL and twin brother, Jonathan Porter of Carlinville, IL.
Memorials may be made to made to Davis-Anderson F.H. for the benefit of the Porter family.
Please visit www.davisandersonfuneralhome.com to leave condolences or light a candle in his memory.
Davis-Anderson Funeral Home, Carlinville is in charge of arrangements.