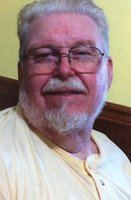 Jimmie Stinnett
Jimmie Stinnett, 75 of Carlinville, passed away Wednesday afternoon, July 25, 2018, at St. Francis Hospital in Litchfield, IL.
Jimmie was born on February 7, 1943, in Carlinville, IL, a son of Charles Anderson and Virgie Leota (Hall) Stinnett.
Jimmie graduated from Carlinville High School with the class of 1961. He married Kay White in 1964, in Rockford, IL.
Jimmie was the past President of the Carlinville Jaycees from 1978 to 1979, member of American Legion Post #554, and a Charter member of Carlinville Southern Baptist Church.
He enjoyed Nascar racing, woodworking, deer hunting, and was a die hard Chicago Cub and Bear fan.
Jimmie started his mining career at the Little Dog Mine in Gillespie where he worked for three years. He worked as a mine examiner and hoist operator for 29 years at Monterey Coal Mine in Carlinville, IL. He retired in 2000. He also was a mine committeeman for the UMWA # 1613. He served his country proudly in the Air Force from 1961 to 1965.
Jimmie was preceded in death by his parents and siblings.
Visitation will be held on Friday, July 27, 2018, 4:00 to 7:00 pm at Davis-Anderson Funeral Home, Carlinville, IL.
Funeral Services will be conducted at 10:00 am, Saturday, July 28, 2018 at the funeral home.
Burial will follow in Mayfield Memorial Park Cemetery, Carlinville.
Jimmie is survived by his wife Kay, daughter, Amy (Vincent) Gomez of Channahon, IL, son, Jay (Susie) Stinnett of Carlinville, IL, and grandchildren; Gary and Greg Gomez and Lane and Holly Stinnett.
Memorials may be made to Land of Lincoln Honor Flight.
Please visit www.davisandersonfuneralhome.com to leave condolences or light a candle in his memory.
Davis-Anderson Funeral Home, Carlinville is in charge of arrangements.