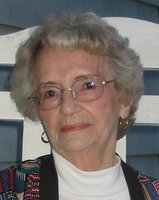 Clara Hail
Clara J. Hail, 93, of Carlinville, passed away Wednesday morning, April 4, 2018 at Barnes Jewish Hospital in St. Louis, MO.
Clara was born on July 11, 1924 to James and Minnie (Grassel) Hughes in Carlinville. She grew up in Plainview and graduated from Carlinville High School in 1941. Clara married John Howard Combes Jr. on January 16, 1943 and he preceded her in death on March 21, 1968. She and John were the parents of 4 daughters. On September 4, 1981, Clara married J. Judd Hail and he preceded her in death on September 26, 2008.
Clara was employed in the Carlinville Office of the Selective Service Borard #1 of Macoupin County during WWII. From 1958 to 1982 she worked in the office at the Macoupin County Enquirer. Clara was a member of Memorial Christian Church in Carlinville and of Christian Women Together of the that church.
Clara is survived by four daughters, Kay Richter of Carlinville, IL, Sherry Bond of Douglesville, GA, Nan (Roger) Gorham of AZ, and Kathleen "Kathie" Owens of Davenport, FL; 12 grandchildren; 24 great grandchildren; 4 great-great grandchildren.
Clara was preceded in death by her parents; 2 husbands; brother, Robert L. Hughes, and 2 sisters, Mary L. (Hughes) Clark, and Norma (Hughes) Huddlestun.
Private burial was held on Thursday, April 5, 2018 in the Shipman Cemetery. A Memorial Service will be held on Saturday, April 7, 2018 at 3:00 pm at Memorial Christian Church in Carlinville. Visitation time will follow the Memorial Service at the church.
Online condolences can be given at www.davisandersonfuneralhome.com.
Davis-Anderson Funeral Home, Carlinville is in charge of arrangements.