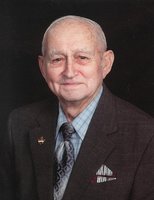 Theodore A. Hammann
Theodore A. Hammann, 96, of Carlinville passed away Sunday morning, September 17, 2017 at Heritage Health Care in the company of his daughter, Elner.
Theodore was born November 30, 1920 in Brushy Mound Township, son of Albert M. and Matilda Hammann. Ted had an 8th grade education from Brushy Mound School and earned his GED as an adult. Ted was married to Elizabeth Loledia Johnson December 31, 1941, later divorced. He later married Eileen Peters September 3, 1976 and she passed away in 2006.
Ted farmed and developed his carpentry skills building a new home on the farm. He sold the farm around 1967 and expanded his carpentry business constructing finishing buildings for livestock producers, which included concrete work, roofing, and finish work.
A life-long member of St Paul's United Church of Christ where he served in numerous capacities at the Church and as Sunday School Superintendent for 10 years.
As a private pilot, he enjoyed flying for a hobby, and many individuals took their first airplane ride with Ted as the pilot. He enjoyed flying so much that he built his own runway on the farm across from the house. Over the years, he owned several single-engine planes in partnership with individuals who became life-long friends.
Semi-retired, he and Eileen traveled around the states and overseas, including a flight on the Concorde from New York to Paris.
Visitation will be held from 4-7pm Tuesday, September 19, 2017 at Davis-Anderson Funeral Home in Carlinville.
Funeral services will be held Wednesday, September 20, 2017 at 2:00 pm at St. Paul's United Church of Christ in Carlinville with Reverand Kevin Strope officiating.
Burial will take place at Moore Cemetery in rural Carlinville.
Survived by his children, James (Mary) Hammann of Decatur, Elner (Mark) Ivers, and Dennis Hammann of Carlinville, and Rosalie (Stanley) Dunn of Hot Springs, Arkansas, 12 grandchildren, 21 great grandchildren, 4 great-great grandchildren.
He was preceded in death by his wives, brothers, Walter and Russell, sister,Louisa, and parents.
Memorials to St Paul's United Church of Christ.
Davis-Anderson Funeral Home Carlinville is assisting the Hammann with their arrangements.
Please visit www.davisandersonfuneral home.com to sign the guestbook.