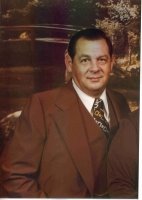 Carlo J. Vitale
Carlo J. Vitale
age 82 of Carlinville, IL died at 6:50 P.M. Wednesday, March 18, 2009 at the Heritage Manor.
Carlo was the son of Jasper and Nicolina (Anania) Vitale and born on January 16, 1927 in Cinisi, Italy. He married Elizabeth (Mandina) on July 8, 1950 in St. Louis, MO. and she passed away in 1990.
Carlo retired from Continental Can in St.Louis, MO after 35 years. In 1984 he and his family moved to Carlinville and opened Roma's Pizza and retired in 1997.
He loved to fish, hunt and could fix anything. He loved to spend time with his family.
Family members, Sons, Jasper V. and Carlo J. Vitale (girlfriend Addie Perkins) of Carlinville, Daughter, Nicolene Rosene of St. Louis, MO, Grandchildren, Carla & Charlie Rosene, Brothers, Joe of Daytona Beach, FL, Jasper and Salvadore of St. Louis, MO, Sisters, Rosie Vitale and Lena Balassi of St. Louis, MO and Maria Ebbinghaus of Florida, Several Nieces and Nephews. Sister deceased Stephanie Rodrich. Funeral Information
Mass of Christine Burial will take place, Monday, March 23, 2009 at 10:00 AM at Ss Mary & Joseph Catholic Church in Carlinville, IL.
Friends may call Sunday from 5:00 to 7:00 at the Davis-Anderson Funeral Home in Carlinville. Prayer service will be held at 4:45 PM Sunday. Donations Information
Parkinson's Foundation or American Cancer Society