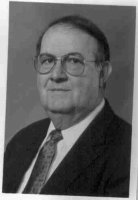 Peter W. Olroyd II
Peter W. Olroyd II
Peter W. Olroyd II, 74, of Carlinville, passed away on Saturday, February 21, 2009 at Heritage Manor in Carlinville, Illinois.
He was born Sunday, July 8, 1934 in Hillsboro, Illinois, the son of the late Peter W. Olroyd, Sr. and the late Maymie Chaudoin. He married Joyce R. Schmidt in Hillsboro, Illinois on December 29, 1953.
Pete was a Korean Conflict veteran serving as a 2nd Class Petty Officer aboard the U.S.S. Cadmus. Mr. Olroyd joined the Carlinville Post Office in 1962 and served as a mail carrier until 1978 when he was appointed Assistant Postmaster, serving in that position until taking early retirement in 1989.
He pastored Fayette Baptist Church in rural Greenfield from 1977 - 1993. From 1994 - 2000, he served churches in Dow, Illinois, Charity Baptist Church in Carlinville, and Carlinville Southern Baptist Church as an interim pastor.
Pete joined the Emmanuel Baptist Church in Carlinville in 2002, where he served as a deacon, director of Sunday school, and taught Sunday school. He was selected as Bivocational Pastor of the Year in 1993.
Survivors: Wife, Joyce R. Olroyd, Son, Peter W. Olroyd III of Carlinville, Son, Mark R. Olroyd (Sondra) of Carlinville, Daughter, Lois Stayton of Redbud, Illinois, Son, Stephen Olroyd (Peggy) of Schwenksville, Pennsylvania, Son, James Olroyd (Tina) of Carlinville, 14 Grandchildren, 11 Great-Grandchildren, 3 Great-Great-Grandchildren, Brother, George Hudelson (Norma) of Clinton, Iowa, Sister, Josephine Harris of Hillsboro, Illinois, Several Nieces and Nephews.
He was preceded in death by Son-in-law: Brent Stayton, 5 Brothers and 1 Sister. Funeral Information
Visitation: 5:00 to 8:00 P.M., Tuesday, February 24 at Emmanuel Baptist Church in Carlinville.
Services: 10:30 A.M., Wednesday, February 25, 2009 at Emmanuel Baptist Church.
Burial will be in Prairie Lawn Cemetery in Carlinville. Donations Information
Memorials may be made to the Emmanuel Baptist Church - Building Fund Or Alzheimer's Association.