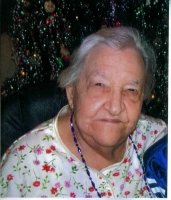 Violet M. Ludwig
Violet M. Ludwig
age 84, of Carlinville, IL passed away, Thursday, March 5, 2009 at St. John's Hospital in Springfield.
She was born March 20, 1924 in Clear Lake, Iowa, daughter of Forrest and Maude (Reed) Mansfield.
Surviving children, Linda Hoefs husband Dan of Lake Tamarisk, CA, Clara Harbaugh of Carlinville, and Maxine Chasco husband Michael of Palmyra, IL.
8 Grandchildren, 10 Great Grandchildren and 4 Great Great Grandchildren.
sister Genevieve Lyerla of Carlinville, brothers Delbert Mansfield wife Ilene of Pekin and Noel Mansfield of Carlinville. Funeral Information
Family and friends my gather at Pullman Cemetery in Modesto, Il for a 3:30 PM. graveside service on Saturday, March 14, 2009. Donations Information
American Cancer Society