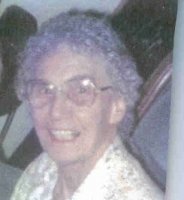 Albertha Mildred Holliday
Albertha Mildred Holliday
age 96, of Carlinville, IL died Wednesday, March 4, 2009 at her son's residence.
Albertha was born September 29, 1912 in Carlinville and was the second daughter born to Frank and Emma (Hauer) Hacke.
She married Orville F. Holliday on February 7, 1939 in Carlinville and he passed away September 29, 1989. She was a member of St. Paul's United Church of Christ and loved to play bingo, cards, and travel.
Family members include: Sons: Dean W. Holliday Sr. wife Robyn of Carlinville, Glen E. Holliday wife Alberta "Bertie" of Carlinville.
Grandchildren: Debbie Seago (Carl), Deanne Unterbrink, Dean W. Holliday Jr., Deana Rogers (Jason), Emily Osborne (Greg), Brad Brimberry (Vicky), and Chris Brimberry (Monica).
17 Great-Grandchildren and Several Nieces and Nephews.
Deceased family members include, parents, husband, brothers Howard and Floyd Hacke, sister Helen Klaus and infant granddaughter Dawn Michelle Holliday. Funeral Information
Graveside services will be held, 10:00 A.M, Wednesday, March 11, 2009 at Carlinville City Cemetery. Donations Information
Alzheimers Association or VNA-Tip Hospice