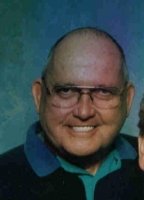 William Joseph Gray
William Joseph Gray
age 71, departed this earth to be with those he loved already in heaven at 1:19 p.m. on March 19, 2009. He was born, the son of James Thomas Gray and Velma F. Brown Gray Trone, on February 12, 1938 in Beardstown.
He was preceded in death by his parents and his sister, Patricia.
William "Bill" was a graduate of Beardstown High School, class of 1958. He attended Shawnee Community College at Ullin, Illinois. He worked in administration for the State of Illinois, Zeigler Coal Company and Freeman United Coal Company. He was a third degree Knight of Columbus. He was raised in the Beardstown and Saint Alexis Catholic Church. He most recently attended and was a member of St Patrick Catholic Church in Girard.
He was a Metropolis Illinois Boy Scout Master in the 1970s and a RCIA Religious Instructor for the St. Patrick, Girard and St. Mary, Farmersville churches.
Bill is survived by his wife of 24 years, Suzanne M. (Monfort) Gray of Virden, one son William Joseph Gray, II (Jamie), three daughters, Patricia Ann Smith (Chris), Michele Parkinson (Terry), Marsha Stiltz (Brian Hiler). Also surviving are grandsons, Justin Gray (Kristen), Herrin, IL, Vincent Whitfield, Christopher Ray, Kyle and Cody Stiltz and Bryce Hiler all of Virden and C. J. Smith, St. Augustine, FL, granddaughters, Krystal Stanley (Nick), Farmersville, IL, Courtney Solomon, Cassidy, and Chelsea Smith, Deltona, FL. He also leaves four great-grandchildren, Jocelyn, Jace and Jaxon Gray, Herrin, IL and Nicole Stanley, Farmersville, IL. Funeral Information
Mass of Christian Burial will be 10:00 A.M., Monday, March 23, 2009 at St. Patrick Catholic Church in Girard.
Visitation will be held, Sunday, March 22, 2009 from 4:00 to 6:00pm at Davis-Anderson Funeral Home in Girard. Prayer service will be held at 3:45 P.M.
Burial will be in Girard Cemetery Donations Information
Beardstown Alumni Association, Adopt-A-Pet, or Donor's choice.