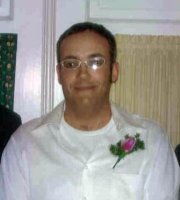 Ian M. Fetter
Ian M. Fetter
of Palmyra, formerly of Carlinville, IL passed away Friday, January 30, 2009 at 6:35 p.m. at his residence in Palmyra, IL.
He was born August 5, 1977 in Carlinville to Albert and Beverley (Baum) Fetter. On August 9, 2008 Ian married Justina Woolfolk and became the daddy to Abrial Rhodes.
Ian had worked for Schutt Sports in Litchfield, IL in the packing department and recently at Olin Brass in East Alton, IL.
Ian was an avid Bears fan. He loved to play golf and video games. Along with his friends, Ian traveled to a different baseball stadium every year, in hopes of visiting them all. He was a member of the Carlinville High School class of 1995 and a graduate of Blackburn College class of 2006.
Survivors include his wife, Justina and daughter Abrial. Also his mother Beverley Fetter, of Carlinville, IL brothers Simon Davis, of Carlinville, IL Andrew Davis, wife Shawn of Medford, OR and sister Victoria Wagstaff, husband Tom of Hillsboro, IL. Grandfather Clarence Baum and wife Norma of Staunton, IL. Other survivors include one nephew, two nieces and several aunts and uncles.
Ian was proceeded in death by his father, Albert Fetter, brother, Daniel Davis, sister, Regina Davis,grandmother,Angela Baum,and grandparents, Albert Lee and Donella Fetter. Funeral Information
Funeral services will be held Wednesday, February 4, 2009 at 10:00 a.m. at the Carlinville Southern Baptist Church in Carlinville, IL. Visition will be Tuesday, February 3, 2009 from 4:00 until 7:00 p.m. at the church. Donations Information
Contributions may be made to Abrial's Education Fund at the
Bank of Modesto.