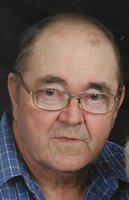 Morris E. Macke
Morris E. Macke, 79, of Carlinville, passed away with his loving family by his side, on Tuesday afternoon, March 27, 2018, at St. John's Hospital in Springfield, IL.
Morris was born on January 16, 1939, in DuQuoin, IL, a son of Lowell and Martha L. (Morris) Macke.
Morris proudly served in the Army during the Vietnam War. He was stationed in El Paso, TX.
He married Shirley Sweeney on May 23, 1980, at Columbia Baptist Church in Columbia, IL.
Morris retired in 2002 after 15 years of service as a diesel mechanic for Buske Transportation Line in Litchfield, IL.
Morris was a member of Emmanuel Baptist church and past member of the Guy Baird American Legion Post #554 in Carlinville, IL.
He enjoyed T.V. Westerns, fishing, and working on anything mechanical.
Morris was preceded in death by his parents.
Visitation will be held on Wednesday, April 4, 2018, from 10:00 to 11:00 am at Emmanuel Baptist Church, where funeral services will be conducted at 11:00 am with Rev. Cliff Woodman officiating.
Morris is survived by his wife, Shirley G. Macke of Carlinville, IL; daughter, Angela (Karl) Jeffery of Dupo, IL; son, Bryan Macke of Hillsboro, MO; son, Morris E. Macke, Jr. of Dupo, IL; daughter, Cindy (Chumly) Kueker of Evansville, IL; son, Dale Macke of Dupo, IL; step-son, Mike Schlotmann of TX; step-son, Mark (Martina) Schlotmann of Carlinville, IL; step-daughter, Donna (Mark) Potts of Hillsboro, MO; step-daughter, Laurie (Rick) Matzenbacher of Waterloo, IL; 19 grandchildren; 22.7 great grandchildren; sister, Carol Ann (Edward) Thomas of Paxton, FL; sister, Barbara Lee (Lynn) Mitkos of Verona, WI; brother, Robert D. Macke of Carlinville, IL; and several nieces and nephews.
Memorials may be made to Emmanuel Baptist Church Missions Program.
Please visit www.davisandersonfuneralhome.com to leave condolences or light a candle in his memory.
Davis-Anderson Funeral Home, Carlinville is in charge of arrangements.