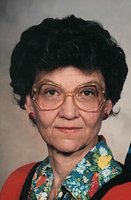 Karen Leach
Karen Kay Leach, 70, of Chesterfield, IL, passed away Wednesday morning, March 14, 2018 at her residence.
Karen was born on July 24, 1947 to Perry and Ruth (Dudderar) Stahl in Carlinville, IL. She married James F. Leach on April 29, 1972 and he recently preceded her in death on February 18, 2018.
Karen was a homemaker, raising two daughters. She was a member of Grace Baptist Church in Palmyra, IL. Karen enjoyed camping, watching humming birds, tending to her vegetable and flower garden, and going to yard sales.
Karen is survived by two daughters, Stephanie (Chris) Edwards of Chesterfield, IL, and Marcie (Steve) Adams of Fairview Heights, IL.
Karen was preceded in death by her parents; husband; infant son, Kevin Eugene Lamarr; 3 sisters, Marlowe Scott, Janet Timmermeier, and Wanda Houseman; half brother, Leonell Stahl, and a half sister, Vera Releford.
Visitation will be held on Wednesday, March 21, 2018, from 9:00 to 11:00 am at Davis-Anderson Funeral Home, Carlinville, IL where funeral services will follow at 11:00 am with Rev Jim Allen officiating.
Burial will take place in Chesterfield Cemetery.
Memorials are suggested to the American Lung Association.