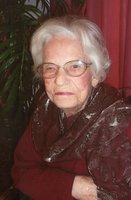 Magdalen "Madge" Cerar
Magdalen "Madge" Orth-Cerar, 99, of Carlinville, passed away Saturday morning, February 10, 2018 at Heritage Health Care in Carlinville, IL.
Madge was born on February 24, 1918 to Henry and Margaret (Finnin) Orth in Bushton, KS. She graduated from Bushton High School in Bushton, KS, and also received her nursing degree from St. John's Hospital School of Nursing in Salina, Kansas. Madge married David Cerar on November 10, 1943 in Little Chapel in the Woods, Norfolk VA Navel Air Station. Dave preceded her in death on November 26, 2001.
Madge was the Director of Nursing at the old Macoupin County Nursing Home, and supervising nurse at the Carlinville Clinic and the old Carlinville Area Hospital. She and her husband Dave owned and operated the Cerar Mink Ranch in Carlinville and the Carlin-Villa Motel. Madge was the administrator for Lakeview Nursing Home, located at Lake Williamson, as well as a member of Ss Mary and Joseph Catholic Church.
Madge is survived by her son, Jon (Teri) Cerar of Carlinville, IL; daughter, Kathryn Cerar of Colorado Springs, CO, and 2 grandsons, Josh Cerar of St. Louis, MO, and Dalton Cerar of Springfield, IL.
Madge was preceded in death by her parents; husband; daughter, Jo-Dee Cerar in 1976; 2 brothers, John and Felix, and 5 sisters, Josephine, Nancy, Mary, Kathryn and Louise.
Private graveside services will be held at a later date in the Carlinville City Cemetery.
Memorials are suggested to the Carlinville Area Hospital.
Online condolences can be given at www.davisandersonfuneralhome.com.
Davis-Anderson Funeral Home, Carlinville is in charge of arrangements.