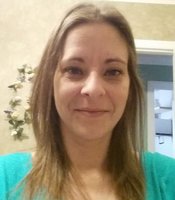 Rachel Elizabeth Warren
Rachel Elizabeth Warren, 34, of Chesterfield, IL, died Thursday afternoon, February 8, 2018, at her residence in Chesterfield.
Rachel was born June 17, 1983, in Litchfield, IL, a daughter of John E. and Carol E. (Fortunato) Warren.
Rachel was a stay-at-home mom who enjoyed her children and family. Her hobbies included, camping, fishing, cooking and just being outdoors. Rachel was also a member of Emmanuel Baptist Church in Carlinville.
Rachel was preceded in death by her brother, Benjamin Warren who died in 2014.
Visitation will be held on Monday, February 12, 2018, from 4:00 to 7:00 pm at Davis-Anderson Funeral Home, Carlinville, IL.
Funeral Services will be conducted at 10:00 am, Tuesday, February 13, 2018 at Davis-Anderson Funeral Home with Rev. Cliff Woodman officiating.
Burial will follow in Chesterfield Cemetery, Chesterfield.
Rachel is survived by her parents John E. and Carol E. Warren of Lake Park, GA; daughter, McKenzie Elizabeth Boston, and son, Brandon Hasquin, both at home; brother, Bill (Rhonda) Warren of Carlinville, IL; sister, Cheryl (boyfriend Jason Boston) Warren; of Carlinville, IL; sister, Vicki Warren of Carlinville, IL, as well as several aunts, uncles, nieces and nephews.
Memorials may be made to CNB Trust Fund for Expenses for the Family and Children.