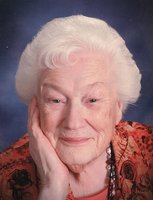 Ilene J. Winters
Ilene J. Winters, 95, of Carlinville, passed away Thursday afternoon, February 1, 2018, HSHS St. Francis Hospital in Litchfield, IL.
Ilene was born August 13, 1922, in Rembrandt, IA, a daughter of Andrew Emery and Naomi Clara (Brown) Glenn.
Prior to moving to Carlinville, Ilene worked for the Olin Corp in Alton, IL. After moving to the area, she managed the Hub restaurant, cooked at Deer Run Inn south of Carlinville and was the bookkeeper for Area Diesel Service.
She enjoyed cooking, reading and collecting cook books. Her past time including watching John Wayne Movies and spending time with her family, especially her grandchildren.
Ilene was a longtime member of the Carlinville United Methodist Church. She also served on the Macoupin County Housing Authority Board for many years.
Ilene was preceded in death by her parents; brothers, Gordon, Roger and Jack Glenn; sister, Mildred Tipton, and son-in-law Ralph Butler.
Family and friends my call on Wednesday, February 7, 2018, from 9:00 to 11:00AM at the Carlinville United Methodist Church where funeral services will be held at 11:00am.
Burial will follow in Valhalla Memorial Park Cemetery.
Ilene is survived by her daughters, Nancy J. Butler of Jerseyville, IL, and Brenda (Larry) Beanblossom of Carlinville, IL; granddaughter, Laura (Dave) Hausaman of Springfield, IL; grandson, Mark (Karen) Beanblossom of Springfield, IL; sister, Jean (Kenneth) Abner of Godfrey, IL; sister, Gail Darr of Chesterfield, MO; brother, Myron (Nancy) Glenn of Carlinville, IL, as well as several nieces and nephews.
Memorials may be made to Carlinville School Milk Program.
Please visit www.davisandersonfuneralhome.com to leave condolences or light a candle in her memory.
Davis-Anderson Funeral Home, Carlinville is in charge of arrangements.