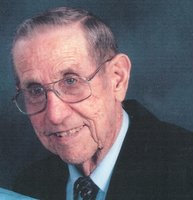 Harold Lange
Harold Lange, 94, of Carlinville, passed away Thursday morning, February 1, 2018, at Heritage Health Therapy & Senior Care in Carlinville.
Harold was born July 4, 1923, in Carlinville, IL, a son of Walter F. and Lumanda M. (Kasten) Lange.
Harold graduated from Carlinville High School with the class of 1940.
He married Geraldine Schwab January 16, 1943 in Carlinville as they just celebrated 75 years of marriage.
Harold farmed for over 47 years North of Carlinville and retired in 1987. He also served as a part-time rural mail carrier. Harold was a member of Ss Mary & Joseph Catholic Church, Macoupin County Historical Society, Blue Cross-Blue Shield Board, Road Commissioner for South Otter Township, Carlinville School Board for 18 years and served two years as President. Harold loved wood working and traveling in their camper.
Harold was preceded in death by his parents, sisters, Mildred Brown, Esther Kurtz and Ruth Pierson and a grandson.
Visitation will be held on Tuesday, February 6, 2018 from 9:00 to 11:00 at Ss Mary & Joseph Catholic Church in Carlinville where a Mass of Christian Burial will be recited at 11:00 am.
Pallbearers serving in the funeral service were; Gerg Matejka, Mike Matejka, Mark (Eddie) Mason, Brian Lange, Evan Matejka, Nathan Thompson and Brett Beckman.
Burial will follow in New Calvary Cemetery.
Harold is survived by his wife, Geraldine of Carlinville, IL, daughter, Carol Sue (Jim) Matejka of Springfield, IL, son, Bill (Nancy) Lange of Carlinville, IL, son, Rich (Patty) Lange of Carlinville, IL, daughter, Diane (Bob) Mason of Tampa, FL, son, Jim (Margie) Lange of Livingston, IL, 8 grandchildren and 26 great grandchildren.
Memorials may be made to Ss Mary & Joseph Catholic Church St Simon & Jude Catholic Church.
Davis-Anderson Funeral Home, Carlinville is in charge of arrangements.