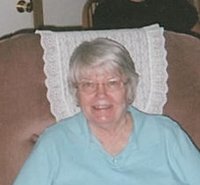 Fay Santowski
Fay (Jessie) Santowski, 83, of Carlinville, formerly of Chicago, passed away Saturday, January 27, 2018 at St. Francis Hospital in Litchfield, IL.
Fay was born on November 9, 1934 to Taylor and Lila (McCann) Moskaloff in Raymond, WA. She grew up in Rock Island, IL.
Fay married Gerald Santowski in January 1960. Fay and Gerald moved from Chicago to Decatur and later to Taylorville, where he preceded her in death. Fay moved to Carlinville in 2011.
Fay liked to sew, embroider, and do cross-stitch. She loved to travel to small towns, attending thresher shows, flea markets and antique shops.
Fay is survived by her daughter, Linda (Gary) Wiser of Chesterfield, IL; son, Gene (Jo) Santowski of Costa Rica; niece, Angie (James) Matusiewicz of Chicago; 5 grandchildren, Luke Carriere, Lillian Rady, Rick Matusiewicz, Eric Santowski, Daniel Santowski; 3 great-grandchildren; half-sister, Ann Hutton of New York; nieces and nephews.
Fay was preceded in death by her parents, husband, 2 sisters, 1 brother, beloved son, James Santowski, and daughter-in-law Alita Santowski.
A private family service will be held at a later date.
Memorials are suggested to the Alzheimer's Association.
Online condolences can be given at www.davisandersonfuneralhome.com.