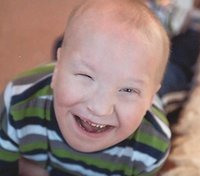 Thomas Robert Gibbel
Thomas Robert Gibbel, 9, of Carlinville, passed away Friday evening, January 26, 2018, at Mercy Hospital in St. Louis. He passed peacefully and without pain in the arms of his mother and father.
Tommy was born July 15, 2008, in Litchfield, Illinois, a son of Eric P. and Alyssa (Crouch) Gibbel.
"Tommy's smile could light up the darkest room." His smile was contagious and his heart was great. Those that met him, loved him immediately. Those that followed his journey, were blessed. His story is inspiring and his impact is deep.
Visitation will be held on Tuesday, January 30, 2018, from 4:00 to 7:00pm at Cross Church in Carlinville.
Funeral Services will be conducted at 10:30 am, Wednesday, January 31, 2018 at Cross Church with Pastor Tim Rhodus officiating.
Burial will follow in Mayfield Memorial Park Cemetery, Carlinville and a dinner for close friends and family will be served at the church.
Tommy is survived by his parents Eric and Alyssa Gibbel of Carlinville, IL, sister, Ryleigh Gibbel and brother, Andrew Gibbel both at home, grandparents, Richard and Karen Gibbel and Robert and Brenda Crouch all of Carlinville, IL and great-grandparents, Dorothy and Marvin Hillebrand of Bunker Hill, IL.
Memorials may be made to Mercy Hospital-St. Louis, MO Child Life Department.
Please visit www.davisandersonfuneralhome.com to leave condolences or light a candle in his memory.
Davis-Anderson Funeral Home Carlinville is in charge of arrangements.