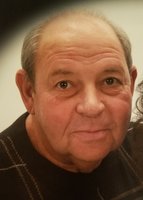 Charles Robert Boyett
Charles Robert Boyett, 71, of Carlinville, passed away Monday evening, January 8, 2018 at Memorial Medical Center in Springfield, IL.
Charlie was born on March 20, 1946 to Robert Charles and Virginia (Ashe) Boyett in Harrisburg, IL. He graduated from Lincolnwood High School in 1964, as well as Ranken Technical College. Charlie served in the United Sates Army during Vietnam where he received the Air Medal for distinguishing himself by meritorious achievement while participating in sustained aerial flight in support of combat ground forces during the period of May 1967 to October 1967. He participated in more than 25 aerial missions over hostile territory during that time. Along with his Air Medal, he was also awarded the Bronze Star. Charlie married Mary "Pat" Portwood on November 22, 1969 in Springfield, IL.
Charlie worked for Monterey Coal Mine in Carlinville, Freeman Crown II Coal Mine in Virden and retired from Freeman Crown III Coal Mine in Girard. He was a long time member of Ss Mary and Joseph Catholic Church in Carlinville. Charlie enjoyed mowing, gardening, riding 4-wheelers, fishing, and hot rods.
Charlie is survived by his wife, Mary "Pat" Boyett of Carlinville; two sons, Christopher Robert (Lyn) Boyett of Gillespie, IL and Casey Louis (Sarah) Boyett of Carlinville, IL; daughter, Carrie Elizabeth (Ryan) Klotz of Freeburg, IL; 6 grandchildren, Isabel and Vivian Klotz, Clara and Lucas Boyett, and Lucy and Dillon Boyett; two sisters, Shirley Martin of Harrisburg, IL and Linda (Larry) Burnet of Waggoner, IL, as well as several nieces and nephews.
Charles was preceded in death by his parents.
Visitation will be held on Thursday, January 11, 2018 from 4:00 to 7:00 pm at Ss Mary and Joseph Catholic Church in Carlinville.
Funeral Mass will be held on Friday, January 12, 2018 at 9:00 am at Ss Mary and Joseph Catholic Church, Carlinville, with Father Michael Haag officiating.
Burial will follow in Camp Butler National Cemetery, Springfield, IL with military honors.
Memorials are suggested to Illinois State Police Heritage Foundation Memorial Park or Guy Baird American Legion Post #554.