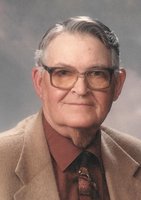 Eddie Stewart
Eddie Stewart, 97, of Girard, passed away Thursday morning January 4, 2018 at Memorial Medical Center in Springfield, IL.
Eddie was born on December 1, 1920 to Ernest and Erma (Lemons) Stewart on a farm east of Virden, IL. On June 23, 1946 he married Thelma Dean Zelmer at the Waverly Methodist Church in Waverly, IL. She preceded him in death on February 23, 2010.
Eddie's life calling has been "steward of the land". He was able to purchase several parcels of farm land over the years, including the original farm his parents rented, where he resided until his passing. Although he remembered difficult years as a child, he felt in later life that "no man has been more fortunate than I, getting to work as a farmer which I love so much that it seems more a hobby than a job". Eddie was a member of the Girard United Methodist Church, and served as a past board member of North Otter Township. He was proud to be a 32nd degree Mason with the Virden Masonic Lodge 161 and became an Ansar Shriner in 1944. Eddie loved to "wheel and deal", and has made many unique trades over the years.
Eddie is survived by two daughters; Dixie (Steve) Stewart-Gage of Girard, IL, and Deborah Smith of Chatham, IL; granddaughter, Dawn Hovious of Phoenix, AZ; grandson, Darby (Alyssa) Ferguson of Girard, IL; 6 great-grandchildren; sister, Cora Jiles of Columbia, SC; several nieces and nephews.
Eddie was preceded in death by wife, Thelma Dean Stewart, grandson, Derek Stewart Gage in 2002, and sister, Betty Hays.
Visitation will be held Tuesday, January 9, 2018, 4:00 pm - 7:00 pm at Davis-Anderson Funeral Home, Girard, IL. Masonic Rites will be conducted by the Virden Masonic Lodge 161 at 7:00 pm, following visitation.
Funeral services will be held on Wednesday, January 10, 2018, at 10:00 am at the Girard United Methodist Church, Girard, IL, with Rev. Mark Doane officiating.
Burial will take place in the Union Chapel Cemetery.
Memorials are suggested to the North Mac Public School Foundation - Ag Dept., Girard United Methodist Church, or Shriner Hospitals For Children.
Online condolences can be given at www.davisandersonfuneralhome.com.