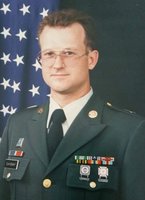 Donald Lee Blankenship Jr.
Donald Lee Blankenship Jr., 56, of Carlinville, passed away Monday evening, December 11, 2017 at his residence in Carlinville, IL.
Don was born on February 3, 1961 to Donald Lee Blankenship Sr. and Hannah (Hardie) Blankenship in Montgomery, AL. After graduating high school, Don served in the United States Army for 13 years.
While living in Alabama Don worked as a policeman for several years. After moving to Illinois, he had been employed for the U-Haul Corporation, Jerseyville Rehab Center and R and R Bindery in Girard, Il in the computer department. Don enjoyed helping people, calligraphy, painting and a new hobby of sewing.
Recently, Don married his longtime girlfriend Julie (Neel) on September 15, 2017 at the Macoupin County Courthouse.
Don is survived by his wife, Julie Blankenship of Carlinville; step father, Leslie S. Thompson Jr.; three daughters, Megan B. Krzmarzick, Miriam Blankenship and Hannah M. Blankenship; two step daughters, Ashley Costello and Jillian Neel; three step sons, David Serrano, II, Christopher Serrano and Patrick Serrano; six grandchildren, three brothers, John T. (Kim) Donohue, Michael P. (Keirin) Donohue and Thomas J. Donohue; three sisters, Maureen P. Donohue, Margaret (Jim) Donohue-Monroe and Barbara D. (Elbert) Bell; step sister, Sharon T. (Bill) Howerton, and a step brother, Leslie B. (Ingrid) Thompson.
Don was preceded in death by his parents and a step brother, Barry Thompson.
Graveside services will be held at Prairie Lawn Cemetery on Friday, December 15, 2017 at 1:30pm with Rev. Cliff Woodman officiating.
Memorials are suggested to the Salvation Army.
Online condolences can be given at www.davisandersonfuneralhome.com.
Davis-Anderson Funeral Home, Carlinville is in charge of arrangements.