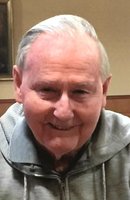 Marvin D. "Bud" Graham
Marvin D. "Bud" Graham, 84, of Mt.Zion, passed away Friday morning, November 17, 2017, in Decatur, IL.
Bud was born April 30, 1933, in Carlinville, IL, a son of Benjamin Franklin and Nola Maud (Davidson) Graham.
Bud proudly served his country in the Navy during the Korean War. After his discharge he was employed at Caterpillar, Inc. for 28 years as a Machinist. He enjoyed fishing and hunting in his spare time.
Bud was preceded in death by his parents; sisters, Eileen Klaus, Wilma Roberson, Velma Fellin, and brother, Lyndal Graham.
Visitation will be held on Saturday, November 25, 2017 from 9:00 to 10:00 a.m. at Davis-Anderson Funeral Home, Carlinville, IL.
Funeral Services will be conducted at 10:00 a.m. at the funeral home with Rev. Rex Hendrix officiating.
Burial will follow in Mayfield Memorial Park Cemetery, Carlinville, IL
Bud is survived by sisters, Erma Carrigan of Staunton, IL and Thelma (Nadine) Brockmiller of O'Fallon, MO and several nieces and nephews.
The family would like to thank Evergreen Legacy Memory Care for their kind and compassionate care.
Memorials may be made to Evergreen Legacy Memory Care in Decatur.
Please visit www.davisandersonfuneralhome.com to leave condolences or light a candle in his memory.
Davis-Anderson Funeral Home, Carlinville is in charge of arrangements.