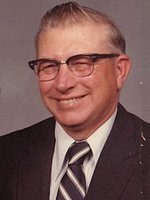 Gerald Eugene Tetzlaff
Gerald E. Tetzlaff, 88 of Carlinville, passed away Wednesday morning, November 15, 2017, at Carlinville Area Hospital.
Gerald was born September 14, 1929, in Carlinville, IL, a son of Ivan Eugene and Lillian Bouillon Tetzlaff. Gerald graduated from Carlinville High School with the class of 1948.
After graduation he joined the National Guard in Springfield, IL and was mobilized to Texas, where he served during the Korean War. He married Dorothy Herzberger during that time on May 5, 1951 in Austin, TX.
Gerald farmed South-East of Carlinville and worked at Rural King in Carlinville and later on in Litchfield. He was the originator of Hog, Inc in Carlinville. While his children were growing up he served as a 4-H Leader for 10 years , a Sunday School Teacher and Superintendent for over 10 years and served as President of the Tuberculosis Board. Gerald enjoyed spending time on the Macoupin County Fair Board with his fellow farm friends.
Gerald was preceded in death by his parents; wife, Dorothy in 2011, and an infant brother Charles.
Visitation will be held on Friday, November 17, 2017, 9:30 am to 11:00 am at St. Paul's United Church of Christ, Carlinville, IL, where funeral services will be conducted at 11:00 am by Rev. Kevin Strope.
Burial will follow in Rural Cemetery, Carlinville.
Gerald is survived by his son, Ronald (Judy) Tetzlaff of Carlinville, IL; daughter, Connie (Bill) Steele of Sparta, TN; grandchildren; Joe (Anne) Tetzlaff, Jennifer (Brad) Robinson, Mark (Christy) Frizzo and Mike Frizzo; 5 great grandchildren; 2 step great grandchildren; sister, Marilyn Best of Carlinville, IL; brother, Dean (Mag) Tetzlaff of Carlinville, IL; brother-in-law, Spencer Herzberger of Carlinville, IL, and several nieces and nephews.
Memorials may be made to American Cancer Society.
Please visit www.davisandersonfuneralhome.com to leave condolences or light a candle in his memory.
Davis-Anderson Funeral Home, Carlinville is in charge of arrangements.