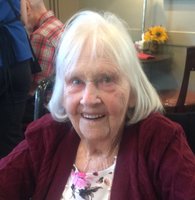 Mildred Mayes
Mildred Pauline Mayes, 102, of Palmyra, passed away Thursday morning, November 9, 2017 at her residence in Palmyra, IL.
Mildred was born on the family farm, West and North of Palmyra, IL, on September 14, 1915, the middle daughter of Eugene Monroe and Nellie Bernice (Rands) Pinkerton. She attended Bethel Country School and Palmyra Community High School. Mildred married Albert Leroy Mayes on July 26, 1932 on the family farm. He preceded her in death on September 26, 2000. They were married for 68 years.
In her earlier years, she worked as a waitress at the local Bramley and Tipton Restaurants. She was employed at the Macoupin County Nursing Home, State of Illinois Dietary Department and Developmental Health Department in Jacksonville. Mildred was a member of the Palmyra Christian Church for 59 years where she was a Sunday School teacher and a member of "Women's Fellowship". She enjoyed gardening and quilting, loved nature and the outdoors and was very knowledgeable about native plants and trees. Mildred fed the cattle and chickens on her farm well into her late 90's.
Mildred is survived by three daughters, Janette Sorrells of Portland, OR, Helen (Dean) Stayton of Carlinville, IL, and Sarah (Larry) Hagaman of Springfield, IL; daughter-in-law, Geri Mayes of Lincoln, IL; 9 grandchildren; 19 great grandchildren; 7 great-great grandchildren, as well as several nieces and nephews.
Mildred was preceded in death by her parents; husband; 2 sons, Kenneth Leroy and Henry Carl Mayes, 2 grandsons, Brent Stayton and Jason Ford, son-in-law, Harold Sorrells, and 2 sisters, Ruth Irene Howell and Lillias Mae Fletcher.
Graveside services will be held Sunday, November 12, 2017 at 1:00 pm at Oak Hill Cemetery in Palmyra, Illinois. There will be no visitation. The service will be lead by Don and David Denney.
Memorials are suggested to the Northwestern Ambulance or the Palmyra Christian Church.
Online condolences can be given at www.davisandersonfuneralhome.com.
Davis-Anderson Funeral Home, Carlinville is in charge of arrangements.