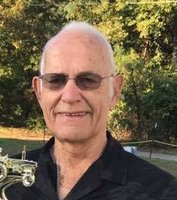 Edward William "Ed" Reznicek
Edward W. Reznicek, 79 of Girard, IL, passed away Wednesday morning, November 8, 2017, at the Jerry Pettit Veterans Hospital in Loma Linda, CA.
Ed was born September 15, 1938, in Carlinville, IL, a son of Thomas "Tom" and Magdelena "Lena" (Edwards) Reznicek. Edward graduated from Carlinville High School with the class of 1956.
Ed served in the US Army during the Vietnam war and proudly served from 1961-1963. Two years after his discharge her married Barbara Duncan in Carlinville and they were married 52 years.
Ed retired from Verizon Phone Company (formerly GTE) with over 34 years of service in South Central Illinois. His last position was a business installer and repairman. After retirement Ed and Barb traveled full time in their RV and enjoyed spending winters in California and summers with their family while volunteering at Lake Williamson in Carlinville.
Mr. Reznicek was a member of St. Patrick's Catholic Church in Girard, IL and had been a past member of Ss Mary and Jospeh Church in Carlinville. He also was a member of the Guy Baird American Legion Post #554 in Carlinville, IL.
Edward was preceded in death by his parents.
Visitation will be held on Monday, November 13, 2017 from 4:00 to 7:00pm at Davis-Anderson Funeral Home in Carlinville, IL. Prayer service will be held at 3:45pm.
Mass of Christian of Burial will be conducted at Ss Mary and Joseph Catholic, 10:00am, November 14, 2017 with Rev. Michael Haag and Deacon Dennis Baker offering the Mass.
Burial will be Camp Butler National Cemetery in Springfield, IL.
Edward is survived by his wife, Barb of Girard, IL, son, Rick (companion Mary Bray) Reznicek of Carlinville, IL, son, Tom Reznicek of Raymond, IL, granddaughters; Brooke Ruyle and Kaitlyn Brockmiller, grandsons; Tommy and Lucas Reznicek, sister, Frances Clark of Auburn, IL, daughter-in-law Donna Reznicek of Girard, IL and several nieces and nephews.
Memorials may be made to St. Patrick's Catholic Church, Ss Mary and Joseph Catholic Church or Concord Church.
Please visit www.davisandersonfuneralhome.com to leave condolences or light a candle in his memory.
Davis-Anderson Funeral Home, Carlinville is in charge of arrangements.