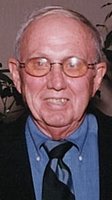 Robert Lapp
Robert Bernard Lapp, 94 Years, of Carlinville, passed away on October 7, 2017 at Heritage Manor in Carlinville, IL.
Robert was born on October 16, 1922 to Ernie and Augusta (Epping) Lapp in Edwardsville, IL. In 1947 he married his wife, Barbara Miller, who preceded him in death.
Bob moved to Carlinville in 1927 when his father purchased Miller Greenhouse. He graduated from Carlinville High School with the class of 1940. Bob attended Blackburn College and worked for the Wabash Railroad until November 1942, when he enlisted in the Navy as a fighter pilot. After discharge in May of 1946 he joined his father Ernie and brother Gene at the Carlinville Greenhouse. Over time the business split with Bob running the retail as Lapp's Flowers and Gene running the wholesale as the original Carlinville Greenhouse. Bob semi-retired in 1983 with he and his wife Barb spending winters in Mexico and later Florida. They enjoyed traveling around the United States and went to Europe several times. The highlight of his retirement was being chosen as a volunteer at the age of 88 to help decorate the White House for Christmas in 2010.
Robert is survived by two sons, Robert (Rosine) Lapp II of Salt Lake City, UT, and John (Paula) Lapp of Carlinville, IL; three granddaughters, Beth Dejong, RN of Salt Lake City, UT, Susan (Kevin) Smith, RN of St. Louis, MO, and Jennifer (Matt) May, MD of St. Louis, MO; two grandsons, Rob Lapp of Salt Lake City, UT, and Kevin Lapp of Carlinville, IL; 2 great-grandchildren; several nieces and nephews.
Robert was preceded in death by wife, Barbara; parents, Ernie and Augusta; brothers, Gene and Ernie Lapp; sisters, Helen Liston, and Norma Bloomfield.
With respect for Bob's wishes no visitation or funeral is planned. A private family graveside service will be held at a later date.
Memorials are suggested to the Carlinville Public Schools Foundation, Blackburn College, or the American Diabetes Association.
Online condolences can be given at www.davisandersonfuneralhome.com.